Privacy & Cookie Policy»
Privacy & Cookie Policy
I do not aim to obtain any personal details about you from this website and do not retain or store any information that may be obtained via cookies. As such I have no details about you and do not share or transfer or sell this information to anyone else – I hope this reassures you.
I also comply with the EU directive and the UK law enforcement for website cookies. Compliance with the cookie law comes down to three basic steps:
Work out what cookies your site sets, and what they are used for: My website uses the following resources, which all have their own cookies:
WordPress – these cookies are only used if you are have to complete any forms or enter a password restricted section of the site – 99% of our site is free from such cookies. Any of these cookies that are used are inserted by the third party plugin providers and not by us.
Google Analytics – these cookies are used to help us gain information about our customers.These cookies allow us to count visits and traffic sources so we can measure and improve the performance of our site. They help us to know which pages are the most and least popular and see how visitors move around the site. All information these cookies collect is aggregated and therefore anonymous. If you do not allow these cookies we will not know when you have visited our site, and will not be able to monitor its performance.
Facebook, Twitter, Google+ , You Tube or other social media "like" buttons or plugins or links – these are cookies that are run by the social media people and are not used by us. The cookies used by these 3rd parties, whose software may be added to the site, can also impact your experience of other websites you may visit after leaving ours. These cookies may be set through our site by our advertising partners. They may be used by those companies to build a profile of your interests and show you relevant adverts on other sites.
They do not store any personally identifiable information, but are based on uniquely identifying your browser and internet device. If you do not allow these cookies, you will experience less targeted advertising.
If you continue to use this site without taking action to prevent the storage of this information, you are effectively agreeing to this use.
If you want to learn more about the general uses of cookies, including how to stop them being stored by your computer, please visit Cookiepedia – all about cookies.
A paypal shopping basket / cart – If I use any online purchase buttons / shopping cart (such as Paypal - then the cookies used are those needed by Paypal for any transaction – the information is not used by us and is totally encrypted by Paypal and by us again with our SSL certificate.
So basically, you have nothing to be concerned about with my website.
What are Cookies Anyway?
Cookies are a kind of short term memory for the web. They are stored in your browser and enable a site to 'remember' little bits of information between pages or visits.
They are widely used to make the web experience more personal, which is generally seen as a positive thing. However some cookies collect data across many websites, creating 'behavioural profiles' of people. These profiles can then be used to decide what content or adverts to show you. This use of cookies for targeting in particular is what the law was designed to highlight. By requiring websites to inform and obtain consent from visitors it aims to give web users more control over their online privacy.
Click outside of this box to accept our cookie policy and to continue browsing this website - thank you.
Get to the Top:
Let's speak personally . . .
Whatever perspective you have on a situation or idea it may change subject to time and influences.
I am prepared to provide you with additional perspective and or prices for agreed solutions FOR FREE - simply contact me on 07931 326 164 and let us start the discussion.
1:1 Business Support
I am launching a new support for those who want to SELL products online.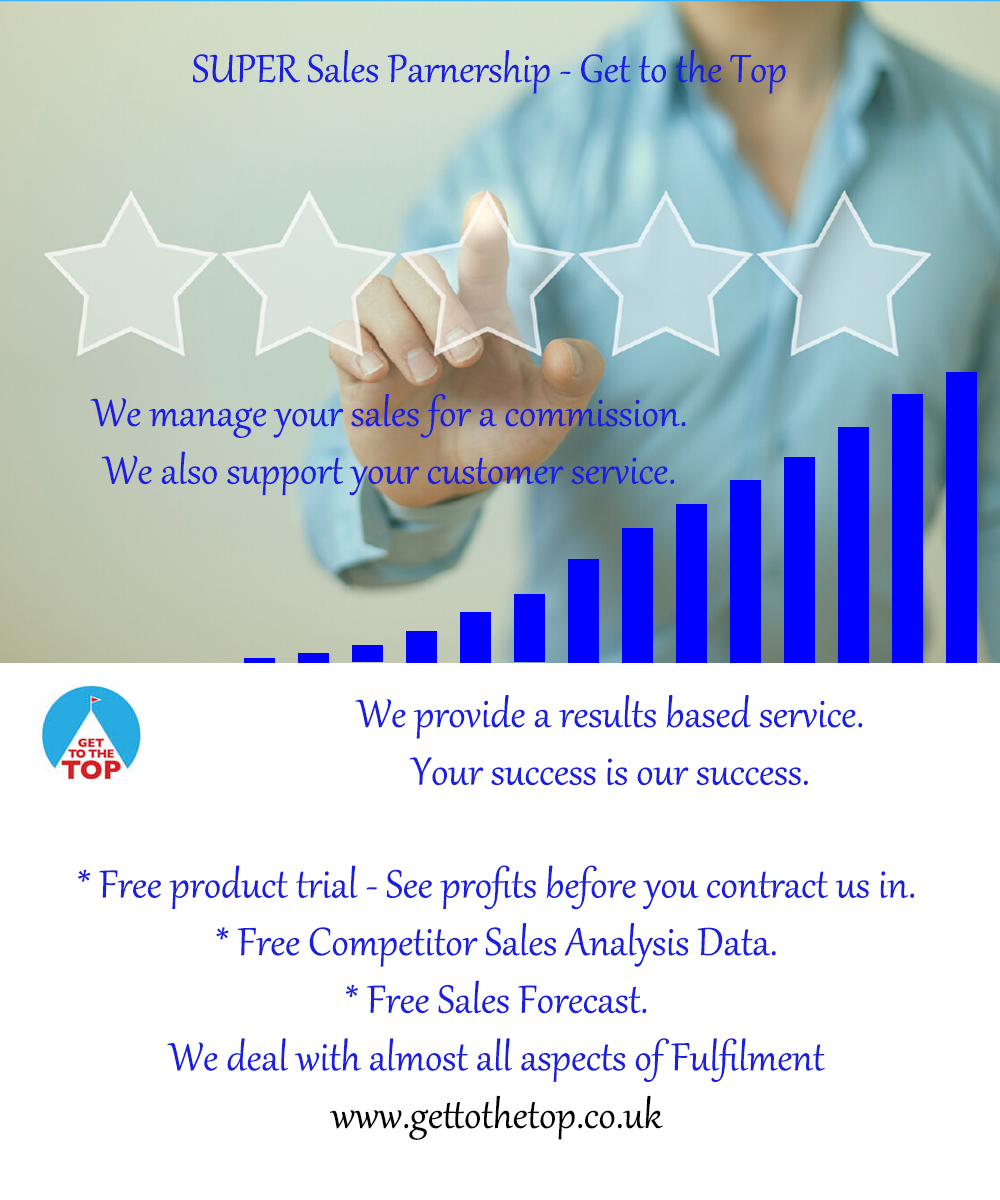 If you want to sell online - Amazon may be your best option - read on . . .
If you want to maximize your Return on Investment or Ad Spend (ROAS), Amazon is a better option than Google or Facebook or Ebay for your spending with PPC.
Compared to Google, Amazon - Has a lower average CPC – $0.96 compared to $2.69 and a higher average conversion rate – 10% compared to 3.75%.
Amazon also has a 54% share of total shopping searches on the web - but perhaps more significant for the seller is that Amazon allows you to know and use the keywords that convert well. This is a huge up-side for Amazon sellers. Controlling your products, keywords, and bids makes all the difference when it comes to PPC as you can invest in what works without having to guess what people are searching for.
Advertising on Amazon is almost unnoticed:
The majority of Amazon shoppers don't notice ads; even when the word "sponsored" can appear on a SERP (search engine results page) more than 20 times. This is due to the seamless integration Amazon ads have with organic listings.
No Anxiety on Amazon:
On Google, clicking a paid listing can mean being sent to a landing page and getting a sales pitch. On Amazon, when a customer clicks a sponsored product, they know exactly what they're getting - a product's listing page.
Customer Support for Sellers is what lets Amazon down:
Amazon do not provide the flexibility of customer support that Google provide; however, we can provide sellers with this support and we can increase your sales in the process - and this includes managing your PPC on Amazon.
Competition Analysis Feedback on Amazon:
We may be able to undertake markwt research for your brand - the benefits of knowing what makes others a success is a great resource we can provide you with.
Find out more with a simple phone call:
I have extensive business experience and specialise in general digital marketing support - click here for more details.
Superfoods, Health, Fitness and Wellbeing
The Mind, Body and Spirit function better when in harmony - I have a FREE BLOG that you can access with both simple and detailed insights - click here for more details.
If you are on a more spiritual journey then my introductory book is a GREAT place for you to start - "Because You're Worth It" - read more about it and purchase it directly from Amazon Kindle Store - click here.
My main book will clarify MY PURPOSE IN LIFE and support yours - The Ultimate Purpose" - read more about it and purchase it directly from my secure online website -click here.
We may have already met:
If we have already met, or you know me well, this may be the first time you have visited this website or realised what I actually did. (I don't just provide help to earn a living - I do it as a lifestyle choice - If there is a cost involved it is only to support my desire to continue doing this without having other distractions).
You will already know that I am a very friendly and approachable person with a love for life, however, you may not have realised that I support people professionally - as a lifestyle choice.
"Get to the Top" is the name of my 'holistic venture' to support people in mind, body and spirit.
#1 - You may have a desire to improve your health, fitness or wellbeing.
#2 - You may have a desire to start a new business, or improve the digital marketing for an existing business or organisation.
#3 - You may be on a journey of self discovery and self improvement.
#4 - You may already be supporting others and be advanced in your 'harmonic resonance' (In which case I would love to meet you and tune in).
I can support you with any and all of these.
This website will link you to further information about the support I provide and the events that I run.
YOUR TIME AND PLACE:
Please feel free to Whats App me personally on 07931 326 164 - THIS SHOULD BE FREE AND PRIVATE and this way you may start a relaxed discussion within the comfort of your own time and place.
You can use Whats App on your PC
Visit https://web.whatsapp.com/ for more details.